A research team led by Prof. WANG Chuanyi from Xinjiang Technical Institute of Physics & Chemistry of Chinese Academy of Sciences, and Prof. ZANG Ling from University of Utah published a review paper in Chemical Reviews, about 1 D self-assembled nanofibers of perylene tetracarboxylic diimides (PTCDIs).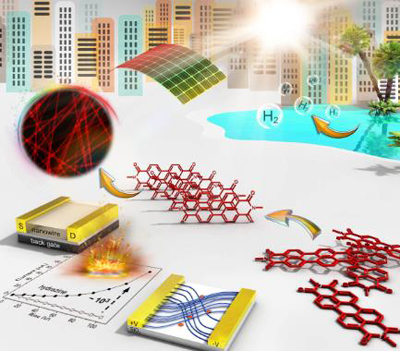 Figure: Self-Assembly of Perylene Imide Molecules into 1D Nanostructures (Image by XTIPC )
PTCDIs and their derivatives represent one class of the most promising n-type organic semiconductors, having unique thermal and photochemical stability as well as many excellent optoelectronic properties. With their facile structural design and solution processing, these molecules can be feasibly transformed into well-defined one-dimensional nanomaterials (e.g., nanofibers) by self-assembly processes. With the rapid development of nanotechnology, increasing interest and further progress are anticipated within this research field.
Researchers present a comprehensive picture of the specific research field, providing deep understanding of recent progress as well as possible challenges and breakthroughs coming in the near future. It focuses on the relevant chemistry advances made in last decade, including molecular structural design, self-assembly methods, morphology control and mechanism, and optoelectronic applications in various nanodevices.
To get it, please click the following link:http://pubsdc3.acs.org/doi/full/10.1021/acs.chemrev.5b00312#
The work was supported by the National Natural Science Foundation of China, the CAS/SAFEA International Partnership Program for Creative Research Teams, the CAS "Cross Cooperation Program for Creative Research Teams", and the National Science Foundation.
Contact:
Prof. WANG Chuanyi
E-mail: cywang@ms.xjb.ac.cn
Xinjiang Technical Institute of Physics & Chemistry