A four-person delegation from the Academy of Sciences of the Republic of Tajikistan, headed by its president Rahimi Farhod, visited XTIPC on March 11. Haji Akber AISA, deputy Director of XTIPC, together with researchers from the CAS Central Asian Drug Discovery and Development Center, hosted the delegation.
Haji Akber AISA,on behalf of XTIPC, extended his warm welcome to the delegation and gave a brief introduction of XTIPC. The delegation introduced the research fields and future plans of Tajik Academy of Sciences. Both sides discussed in details on topics ranging from co-studying the Tajik folk and traditional medicine, establishment of bioactivity screening platform to collaboration on talent training,etc.
After the discussions, the guests visited the Key Laboratory of Plant Resources Chemistry at XTIPC.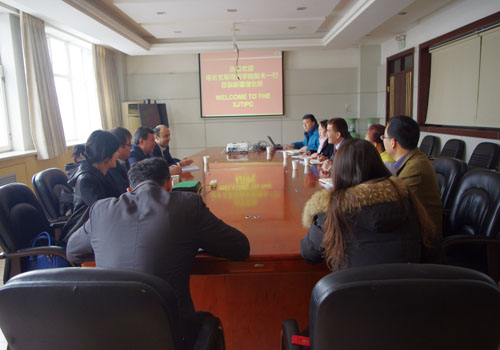 Tajik Academy of Sciences Delegation Visits XTIPC