In recent years, perovskite solar cells (PSCs) have attracted more attention in the field of photovoltaic conversion devices. With the introduction of the inorganic−organic hybrid halide perovskite compounds as light harvester, photoelectric conversion efficiency of PSCs has achieved 20%. However, to grow large-scale hybrid perovskite single crystal is still a challenge.

Prof. XU Jinbao's team from Xinjiang Technical Institute of Physics and Chemistry of Chinese Academy of Sciences developed a facile single-solution fabrication approach to grow large-scale CH3NH3PbBr3 hybrid perovskite single crystal at room temperature. The result was published in the Journal of Physical Chemistry Letters.

The prepared CH3NH3PbBr3 hybrid perovskite single crystal was about 14 × 14 mm. The crystal structure of the as-prepared single crystal belonged to the cubic system and with the space group of P-43m, and the calculated X-Ray Diffraction (XRD) pattern was consistent with its powder pattern.

Large-scale CH3NH3PbBr3 single crystal can be easily synthesized via single-solution method at room temperature with low cost.

Researchers explored photophysics properties of the obtained CH3NH3PbBr3, including the surface morphology, work function, surface current distribution, microcosmic I-V curves, as well as the spontaneous polarization behavior in situ characterized by integrated utilization of a scanning probe microscopy, respectively. Piezoresponse force microscopy (PFM) phase angles indicated that the existence of spontaneous polarization in CH3NH3PbBr3 lattice. Interestingly, the spontaneous polarization effect was enhanced by the plus light source.

A surface potential shift as large as 200 mV was observed under the condition of the illumination on and off. Besides, researchers found that the photo-current was about 20 times larger than that of dark ones, and no attenuation phenomenon within the test scope. The result provided an opportunity to take a fresh look at the architectural design and photovoltaic performance origin of the hybrid perovskite solar cells.

This work was supported by the West Light Foundation of the Chinese Academy of Sciences, Thousand Talent Program, and National Natural Science Foundation of China, etc.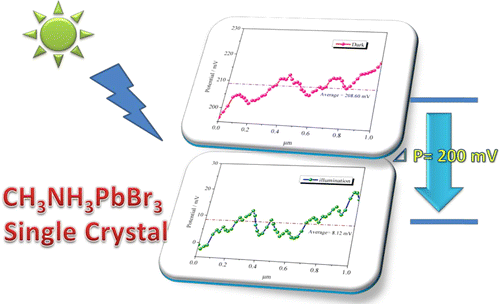 Figure: the surface potential of the CH3NH3PbBr3 single crystal under dark and illumination(Image by XTIPC)
Contact:
Prof. XU Jinbao; Prof. REN Wei
Xinjiang Technical Institute of Physics and Chemistry, CAS
E-mail: xujb@ms.xjb.ac.cn, renw@ms.xjb.ac.cn