Polycyclic aromatic hydrocarbons (PAHs) are mainly produced from fossil fuel deposits and incomplete combustion. Those pollutants reside on the upper surface layer for a certain period and undergo various natural processes, such as photolysis reactions under solar-light irradiation. However, the soil environment is a complex system. The soil components, like natural minerals and organic substances, may influence the photolysis of PAHs.
Researchers at Xinjiang Technical Institute of Physics & Chemistry of Chinese Academy of Sciences investigated the potential roles of LMWOAs (i.e., oxalic acid, malic acid, citric acid, EDTA, and nitrilotriacetic acid) on the removal of phenanthrene catalyzed by Fe3+-smectite under visible light. They found that the Fe3+-smectite complexes with malic and oxalic acids are very photosensitive and easily able to generate radicals upon irradiation. The formed radicals further generate reactive oxidation radicals such as ·OH, thus enhancing the transformation of phenanthrene.
Electron paramagnetic resonance (EPR) results showed that the strong chelating ability of EDTA and nitrilotriacetic acid with Fe3+ induces a much lower efficiency in both the Fe2+ formation and the phenanthrene photodegradation. The results provided fundamental information on the acceleration and quenching effects of organic acids on the photodegradation of phenanthrene.
The findings are helpful for understanding the mechanisms governing the photolysis of phenanthrene by low-molecular-weight organic acids and provide valuable insights regarding the photochemical processes of organic contaminants on soil surfaces. The study was published in Chemosphere.
The work was supported by the National Natural Science Foundation of China, the "Western Light Western Doctor" Program of Chinese Academy of Sciences, etc.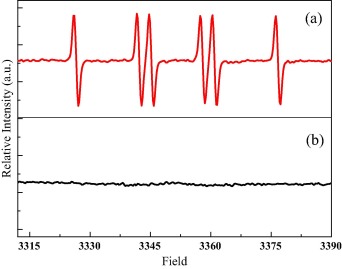 Figure: EPR analysis of phenanthrene photodegradation on LMWOAs-Fe3+-smectite complexes(Image by XTIPC)
Contact:
Prof.WANG Chuanyi
E-mail:cywang@ms.xjb.ac.cn
Xinjiang Technical Institute of Physics & Chemistry,CAS