International Agency for Research on Cancer (IARC) classifies lead as a Group 2A hazard (probably carcinogenic to humans) for its long-lasting, easy bio-accumulated and nonbiodegradable properties. Therefore, rapid and inexpensive analytical methods for real-time monitoring of lead are highly desired.
Researchers from Xinjiang Technical Institute of Physics & Chemistry of Chinese Academy of Sciences prepared a novel nanoporous carbon material based on an isoreticular metal-organic framework-8 (IRMOF-8), which can be used in detection of lead ions.
Researchers obtained the nanoporous carbon (NPC) material via direct carbonization of IRMOF-8 in nitrogen atmosphere at 1000℃ with a high surface area of 1715 m2/g and a large pore volume of 1.7cm3/g, which possessing a three-dimensional hierarchy of micro-, meso-, and macropores.
The NPC with three-dimensional hierarchy benefits the accumulation by using Nafion and bismuth films as co-modifiers. According to the differential pulse anodic stripping voltammetry (DPASV) analysis, stripping of lead ions in electrochemical determination have high sensitivity and repeatability.
The NPC showed linear ranges achieved 1-70μg/L, and its detection limit is about 0.8 μg/L, which is 12.5 times lower than the guideline value set by the World Health Organization (WHO) for drinking water.
The fabricated electrochemical sensor can be used in the analyses of lead in tap-water samples, with satisfying recoveries ranging from 95% to 105%.
The result was published in RSC Advances.
The work was supported by the Hundred Talent Program and the Western Light Program of the Chinese Academy of Sciences, the National Natural Science Foundation of China, etc.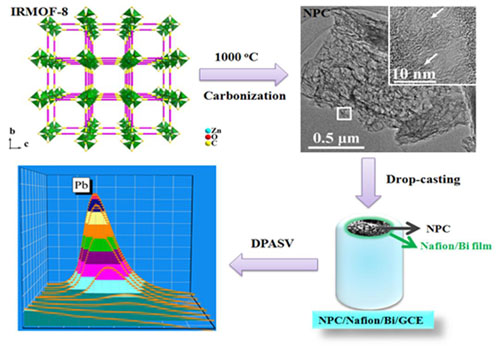 Figure: A electrochemical sensor for Pb(II) based on IRMOF-8 derived hierarchical porous carbon. (Image by XTIPC)
Contact:
Prof. YUAN Qunhui
E-mail: yuanqh@ms.xjb.ac.cn
Xinjiang Technical Institute of Physics & Chemistry,CAS