Fiber-reinforced polymers (FRPs) are one of the most important materials for many engineering applications. FRPs reinforced by glass fibers generally have laminate or sandwich structures, such specific build-ups make material sensitive to the intrinsic damages, such as delamination, matrix cracking and so on. Therefore, a reliable method for evaluating the healthy states of FRPs under the mechanical load is critical to assess their reliability and service life.
A research team led by Professor MA Pengcheng at Xinjiang Technical Institute of Physics and Chemistry of Chinese Academy of Sciences developed a new method for monitoring structural damage in FRPs.
The team prepared functional glass fibers (GFs) by coating carbon-based nanoparticles onto fiber surface. The prepared fibers were embedded into polymer to fabricate model FRPs. The developed composites exhibited significant difference on electrical response under the mechanical load, which were fundamentally associated with initiation and propagation of cracks in FRPs, thus can be employed to evaluate the healthy states of materials. The novelty of this work lies in the fact that instead of measuring the damage in the matrix of FRPs, the mechanical load applied to the reinforcement is directly measured using the glass fiber. The incorporation of carbon-based nanomaterials made GFs sensitive to temperature and strain, and the materials are expected for temperature sensing, electronic skin and wearable devices.
The result was published in Composites Science and Technology. The first author, PhD candidate HAO Bin, was supported by the Travel Grant of the University of Chinese Academy of Sciences to make an oral presentation during the 20th International Conferences on Composite Materials (ICCM-20) in Copenhagen, Denmark.
The work was supported by the National Natural Science Foundation of China, Thousand Talent Program and the China-Germany Scientific Cooperation Program (PPP).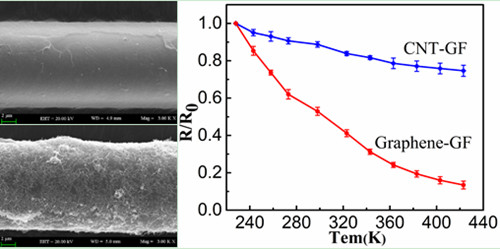 Fig. 1 Glass fibers with graphene and carbon nanotube coating and their electrical responses to temperature.(Image by XTIPC)
Contact:
Prof.MA Pengcheng
E-mail: mapc@ms.xjb.ac.cn
Xinjiang Technical Institute of Physics & Chemistry,CAS