As a high performance fiber material, carbon fibers are used in a broad variety of applications in military aircraft, aerospace, sports industries. Traditional methods for the preparation of carbon fibers are based on fossil fuels using poly(acrylonitrile) and mesophase pitch as starting materials.
However, with the rapid consumption of fossil energy, the cost of carbon fibers based on nonrenewable energy increases the environmental pollution due to the produce of toxic gases (e.g., hydrogen cyanide) using polyacrylonitrile(PAN)as precursor. As a result, it is urgent to develop an environment friendly process for preparing low cost carbon fibers based on renewable, nontoxic, and sustainable resources.
Recently, a research group led by Prof. ZHANG Yagang at Xinjiang Technical Institute of Physics & Chemistry (XTIPC) of Chinese Academy of Sciences developed an environment-friendly, low cost method for the preparation of carbon fibers based on waste cotton linter.
Researchers aim to prepare high value added carbon fibers using the regenerated cellulose fibers. Waste cotton linter was recycled for preparing regenerated cellulose fibers in first step, which was served as starting materials for carbon fibers preparation. The CarbaCell method, an environment friendly process, was used in the preparing of regenerated cellulose fibers.
Compared with the traditional viscose method, the CarbaCell procedure is not only relatively simple without aging, blending, and ripening procedures, but also free of toxic gases (e.g. CS2, H2S). Overall, the process can be done with the viscose spinning machines, which greatly reduces the production cost. In second step, diammonium hydrogen phosphate, was used as impregant during carbonization process.
Researchers found that the carbon yield increased by 133% with the use of the impregant compared to the control. Furthermore, the tensile strength of final product carbon fiber reach 0.72GPa, which is decent among those carbon fibers based on biomass resource.
The study provides a green, low cost approach for the preparation of carbon fibers based on a renewable resource and was published on ACS Sustainable Chemistry & Engineering.
This work was supported by the Thousand Talent Program, National Science Foundation of China, etc.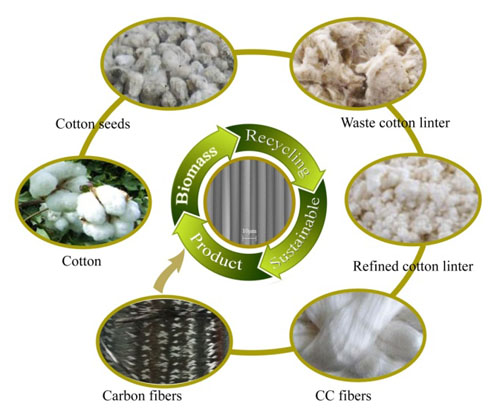 Figure:Carbon fibers preparation process based on waste cotton linter--a low cost, sustainable, and nontoxic nature resource.(Image by XTIPC)
Contact:
Prof.ZHANG Yagang
E-mail:ygzhang@ms.xjb.ac.cn
Xinjiang Technical Institute of Physics & Chemistry,CAS