Luminescent metal clusters, composed of several to dozens of transition metal atoms,which possess a nature that bridges the gap between metal atoms and nanoparticles. Over the past few years, fabrication of those luminescent metal clusters with ultra-small dimensions (< 2 nm) had been intriguing and attracted tremendous scientific attention due to their particularly superior optical, electromagnetic, and catalytic properties.
A research group led by Prof. WANG Chuanyi at Xinjiang Technical Institute of Physics & Chemistry (XTIPC) of the Chinese Academy of Sciences developed fluorescent silane-stabilized Au nanoclusters (NCs) as a promising photocatalyst. The study has been published in Nanoscale.
Researchers used a simple photoreduction method to synthesize luminescent Au NCs, which were protected by a commercially accessible silane coupling reagent, (3-mercaptopropyl) trimethoxysilane (MPTS). Meanwhile, MPTS was also functioned as the reducing agent in this work.
These Au NCs exhibit a tunable fluorescence property, possessing a relatively long fluorescence lifetime of 34.04-46.83 ns and luminescence quantum yields of 0.26–3.16%, which is attributed to the formation of clusters with different dimensions.
Fluorescence spectra and high resolution transmission electron microscopy (HRTEM) results show that Au NCs with average size of 1.3 nm, 1.8 nm, and 2.0 nm giving emission bands centered at 538 nm, 558 nm, and 580 nm, respectively.
Besides, researchers found the as-prepared Au NCs possessing decent photocatalytic activity and are capable of being ultilized as an independent photocatalyst. Under visible light irradiation, Au NCs can effectively promote the degradation of methylene blue, with degradation efficiency of 95.6% in 60 min.
Based on previous reports and electron paramagnanetic resonance (EPR) measurement, researchers deduced that the photocatalytic degradation of methylene blue in the present system is due to the synergic effect between superoxide radicals (•O2−) and photogenerated holes (h+).
Sharing similar electronic structures with semiconductors, these silane-stabilized Au NCs are highly promising in catalytic processes and also applied to the design and synthesis of novel cluster-based photocatalysts in the future.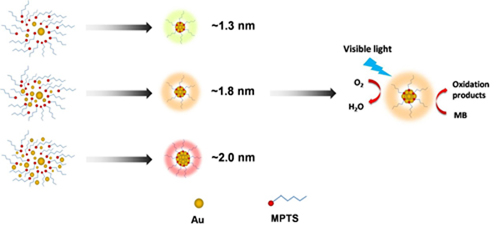 Figure:Preparation of fluorescent Au NCs with different sizes and their properties for photocatalytic degradation of methylene blue under visible light (Image by XTIPC)
Contact:
Prof. WANG Chuanyi
E-mail: cywang@ms.xjb.ac.cn
Xinjiang Technical Institute of Physics & Chemistry, CAS