Roxarsone, an organoarsenic compound, serves as a feed additive most widely used in poultry and swine industry to promote animal growth and prevent infection. However, serious pollution problem has been caused by Roxarsone being discharged into the environment.
It was found that Roxarsone was the predominant water-soluble as species and accounted for 70-90% of the total as in poultry manure. Therefore it is important and practically useful to develop new strategy for this emerging pollutant.
A research group led by Prof. ZHANG Yagang at Xinjiang Technical Institute of Physics & Chemistry (XTIPC) of the Chinese Academy of Sciences designed and synthesized a new class of functional organic materials for selective recognition and adsorption of roxarsone and its derivatives via molecular imprinting. The study was published in Journal of Molecular Recognition.
Studies on the specific recognition of roxarsone at molecular level and design functional materials for roxarsone adsorption and removal are rarely reported. The previously reported work used well known functional monomer methyl acrylic acid (MAA), vinyl pyridine as functional monomer and ethyleneglycoldimethacrylate as crosslinker. However, the maximum adsorption capacity of the prepared molecular imprinted polymers for roxarsone is quite limited (0.93 mg/g).
Molecular imprinting technology is molecular recognition approach which mimics the enzyme and antibody mechanism and holds great application potential. Prof. ZHANG's group has focused on designing better functional materials for solving this problem. The key working mechanism is based on acid-base interaction and surface imprinting.
With these approaches, researchers obtained dual functionalized core-shell structure. The results showed that the surface molecularly imprinted polymers for roxarsone was successfully absorbed and the prepared functional organic materials achieved excellent binding capacity as high as 49.53mg/g.
The recognition selectivity for roxarsone and its derivatives can be significantly improved (3.5-4 folds) with molecular imprinting. Moreover, the prepared functional material for selective recognition and adsorption of Roxarsone was reusable for multiple times without significant decreasing in their adsorption capacities.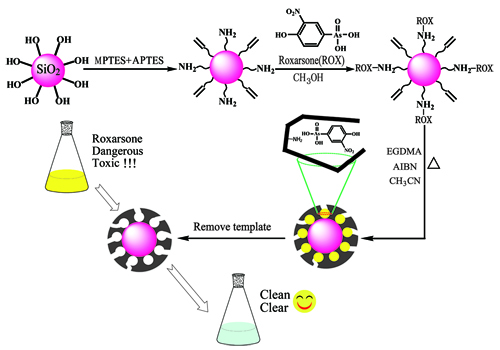 Graphical illustration of design and application of functional organic material for roxarsone and its derivatives recognition via molecular recognition and imprinting(Image by XTIPC)
Contact:
Prof. ZHANG Yagang
E-mail:ygzhang@ms.xjb.ac.cn
Xinjiang Technical Institute of Physics & Chemistry, CAS