Nitrogen-doped porous carbons have a variety of applications in sensors, catalysts, energy storage and environmental science due to its properties such as high specific surface area, outstanding chemical stability and low cost. Traditional methods for preparing carbon materials are based on fossil fuels and lead to heavy pollution. Therefore, it is of great importance to design structure-controllable, cost effective nitrogen-doped porous carbon materials utilizing sustainable biomass resources.
Recently, a research group led by Prof. ZHANG Yagang at Xinjiang Technical Institute of Physics & Chemistry (XTIPC) of Chinese Academy of Sciences developed a facile one-pot approach to prepare hierarchical nitrogen-doped porous carbons (HNPCs) with tunable pore structures and ultrahigh specific surface area from sustainable biomass precursor cellulose carbamate via simultaneous carbonization and activation. The study was published in Journal of Materials Chemistry A.
The as-prepared HNPCs exhibited ultrahigh specific surface area (3700 m2/g), high pore volume (3.60 cm3/g), and high level of nitrogen-doping (7.7%). Also, researchers investigated systematically their yield, elemental composites, morphology and the pore structure by adjusting the calcinations temperatures.
Researchers further evaluated the electrochemical performance and the adsorption capacity for Methylene blue (MB). The results showed the as-prepared supercapacitor had excellent electro-chemical properties. In two-electrode systems, the supercapacitor exhibited high specific capacitance of 289 F/g at a current density of 0.5 A/g with 6 M KOH aqueous as electrolyte. In addition, it showed outstanding rate capability (~73% retention at a current density of 20 A/g) and cycling stability (~92% retention at 2 A/g) after 5000 cycles.
Besides, researchers found the adsorption capacity for MB reaching an unprecedented 1551 mg/g, which indicated the as-synthesized HNPCs could be used as functional materials for waste water treatment.
The work was supported by National Natural Science Foundation of China, Xinjiang Distinguished Youth Scholar Program and the "One Thousand Talents" Xinjiang Program of China.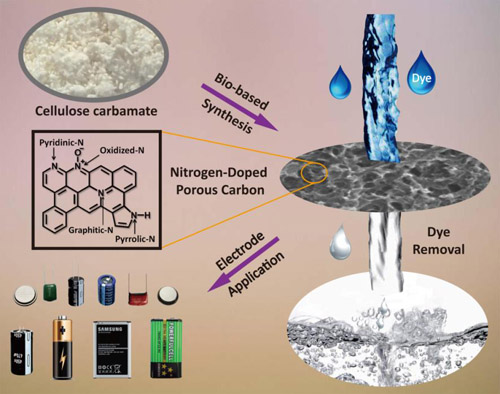 Figure:Bio-based nitrogen-doped porous carbon with ultrahigh specific surface area for energy and environmental applications(Image by XTIPC)
Contact:
Prof.ZHANG Yagang
E-mail: ygzhang@ms.xjb.ac.cn
Xinjiang Technical Institute of Physics & Chemistry, CAS